Structures And Installations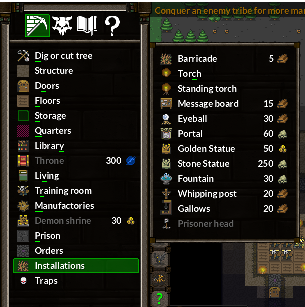 Structures
Soft rock
Fill in holes in your walls
Hard rock
Make filled holes slightly harder to breakdown
Reinforced wall
Increase efficiency of nearby training, crafting and studying
Pit
Force invaders to bridge gaps or fly across them. Can be filled with water by digging channels from lakes and rivers to make a moat.
Bridge
Build it to pass over water or lava.
Doors
Lock minions into areas or out of areas. Slow down advancing armies.
Click on a built door to lock it.''
Wooden door
Iron door
Adamantium door
Installations
Barricade
Place it on tiles next to a wall.
Barricades let the air through, not your minions! Pretty useful to have a indoor pigsty without corpse rotting hazard. Best is to have a barricade "window" next to water (neighbors: they don't swim… or fly).
Torch
Place it on tiles next to a wall.
Cost : none
Increases room efficiency
Light emission : 8.2
Standing Torch
Like a normal torch but placed on the floor not a wall
Message board
Other members of the KeeperRL community can post on your dungeon message board
Eyeball
Makes the area around it visible.
Cost : 10 mana
Vision range : 30 Tiles
To get max range, it might be handy to add torches (and to cut or burn those annoying trees).
Portal
Gold Statue
Less effective than the throne but you can add as many statues as you want - the minions like fine art!
Augments the population cap by 1.''
Cost: 50 gold
Stone Statue
Augments the population cap by 1.per statue.
Cost: 250 Stone
Maximum population of +4 from stone statues
Whipping Post
If they don't look happy enough, they just need to be "educated" a bit.
Gallows
A place to execute prisoners that look nicer as a head on a pole.
Prisoner Head
Impaled head of an executed prisoner. Aggravates enemies.
Cost : 1 prisoner head
Each head increase the chance to be attacked by villages.
Other items in this section